Safety First: What's Your Plan?
At Home. A home safety plan is incredibly important if you have children, or even visiting family members. Make sure your first aid kit is well-stocked, and that every member of your family knows where to locate it. Keep a list of emergency phone numbers on the refrigerator, and review who to call in difference scenarios. Keep a fire extinguisher accessible, and become familiar with the instructions. Determine a "meeting spot" that every family member must head to if disaster hits suddenly. A home safety plan doesn't have to be elaborate, but it could keep a bad situation from getting worse!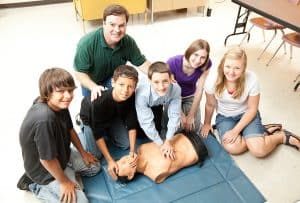 On Vacation. Whether you're going to Disneyland, or a week at the beach, making sure your family is aware of a safety plan that can help avoid unsafe situations. Before you head off for your adventure, take note of weather conditions and any activities that could pose a potential danger to your loved ones, and it's important to talk over a safety plan with your family – especially your children. For example, there may be a strong rip tide on any given day at the beach. A safety lesson of the dangers of a rip tide  — explain what it is as well as what to do if caught in a rip tide — and show them the flag that flies to alert the dangers as well as their  "safety contact" at the lifeguard station.  If you are in a crowded area like a theme park, set a meeting place to gather in the event that someone is separated from your group. It is also a good idea to make note of emergency exits and medical facilities.
Every Day. Having a safety plan also means talking to your children about how to stay safe on a daily basis. For example: what should they do if a stranger tries to talk to them? Or even the importance of not looking down at their phone as they cross the street. For you, a daily safety plan may mean having a trusted friend, family member or neighbor who can watch your children in the event of an emergency, or even on a day when you are staying late at work. It could also mean knowing a few first aid basics, like how to help a child who is choking or enrolling your teen in a CPR class at the local hospital.