Helping Your Child Adjust To Preschool
A new school year can be hard on your little one, and for that matter – the parent! If you are new to this routine, and your preschooler is struggling with this adjustment, don't worry – we've all been there. There are few things in life that are more difficult than leaving your child crying in the door of a classroom, even though in your heart and mind you know that this is temporary and necessary for all ages!  Take a look at these tips to help you and your child transition through this to a fun and healthy school year:
It Begins With YOU!
Believe it or not, if you haven't prepared YOURSELF for this major change in your daily life, your child can and WILL pick up on this. Even if you are nervous (as you most of us are) make sure that you exude a sense of calm and confidence – and watch what you say to friends and family – especially when your little one is near.
Consistency Is Key
Children need to know what they are doing, where they are going, and what you are expecting of them.  Be sure to set up a routine – even for the youngest of the bunch.  This will not only ease the chaos in the household but will also boost awareness of the routine that is exhibited in the classroom.  Here's a simple, yet effect morning routine that can easily be adapted to all age group:  eat breakfast together, prepare a lunch or discuss the school lunch menu for the day, set a spot for school gear and have each child gather their things, double check for any missing items, and happily leave the house for a day of learning and friendship!
Leave With Confidence
Once again, when you leave your child in the classroom, they can feel your anxiety. Be sure to hug and kiss your child goodbye, assure them that you will return shortly, and walk away without any lengthy goodbye. Don't sneak out without saying goodbye, this only makes things worse.  You don't want your child to feel abandoned or tricked. You also want them to know what to expect, including a loving goodbye.
One thing to remember is that kids adjust to new environments on different timelines. If you notice that your child is having  a harder time than the others – don't worry, this process can take a few weeks. Let them adjust at their own pace, your gentleness and patience will help this life lesson be a wonderful experience.
Words Do Make A Difference In The Success of Your Child
With the signs of spring breathing new life into the creation around us, this is the perfect reminder to cherish the good that surrounds us with POSITIVE words and behaviors – and there is no better place to start than as a parent. Parenting is a balancing act that requires control – often tangling with the fine line of encouragement and exasperation. Positive words that you speak over your kids can help instill confidence and control in your WHOLE family in both the short term and long term.
Words spoken can become meaningless when they are not exhibited in an action. However, words alone do have great power – both positive and negative. We can all make a choice to speak in a positive way to everyone around us – especially to our children and all young ones that we encounter throughout the day. This behavior is one that they will begin to imitate – even though they may not recognize they are doing so.  You never know how the words of encouragement that you speak today will affect your kids to carry with them for the years ahead.
Be intentional in the morning – and set aside specific words that you are going to speak to kids. Write them down if you have to, or simply use your favorite word of encouragement that brings a smile to YOUR child's face – over and over again.  The more you can follow up these words with actions of affirmation – the more power these words will have. Have fun and spread the kindness beyond your home – you'll be amazed at the goodness that will follow!
New Twists On The Old Classic Games
There are certain board games or video games that we've all grown up loving and want to revisit or share with future generations. Unfortunately, they may be hard to track down, very expensive or no longer compatible with today's technology. Thankfully, there are some great newer versions of the games we love with added elements that will surprise you! Next time you have family game night or downtime, try these new twists on old classics:
Nintendo Switch: If you have fond memories of grabbing your GameCube and all of the chunky game cartridges that were paired with it, you'll love this updated gaming system. Play newer games or the old classics on this portable handheld system and you'll never have to worry about lost games and tangled cords.
Updated board games: Many board games like Monopoly, The Game of Life, and Scrabble still contain the same rules and setup, but with new electronic updates. For instance, Scrabble now comes with an electronic system for counting points on letters, making gameplay faster and easier for players to keep track of their scores. Monopoly has an updated version with an electronic banking system, making money-handling easy for both players and the parents keeping track of game pieces!
Phone versions of games: You probably know about Candy Crush and Flappy Bird, but did you know you can play your favorite arcade games on your phone? Arcades may be hard to come by, and you may feel a little out of place in one now. Thankfully, you can play games like Pinball, PAC-MAN, Frogger and more, without ever having to set foot on a sticky arcade floor. Many of these games are free and allow you to compete with other high scores, making for some friendly, fun competition!
How To Reduce Screen Time For Your Children
In a society where technology prevails, it can be tougher than ever to convince your child to voluntarily look away from the screen. This doesn't just mean the television – most households
now have multiple smartphones, ipads and laptops.
In a recent report by Common Sense Media, it was found that 42% of children 8 and younger have their own tablet devices, and spend an average of 2 hours and 19 minutes a day looking at screens. Tablets and phones can be great educational tools, but if used too often they can also disrupt sleep schedules and even impact expressive speech and the ability to recognize emotions. Here are the top ways to reduce screen time:
Set An Example: Though it may be tough moving away from screens yourself, it is one of the most impactful ways to reduce screen time for your child. Younger children learn by observing, and making an effort to put down your phone, computer or tablet will set a good example.
Create Rules and Follow Them: By setting rules for your child, they will begin to understand when it's time for screens and when they have to step away. A good place to start can include: no television during dinner, no digital device with a screen before bed, and setting designated times that the kids can enjoy a device with a screen. Abiding by these rules may be harder on you than the child. Think about when you're busy and you need to keep your child occupied — what do you do? Most of us send hand them a tablet, stream their favorite show and head off to do our chores. However, if you've set a rule for no screen time, it is important to stick to it.
Provide Alternate Activities: If your child is bored, they're going to want to reach for a device for entertainment. Engage with them by going outside, playing games or reading books – you'll create fond memories and a desire for other forms of fun!
AAA-CHOO! Keeping a Healthy Home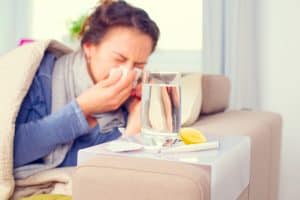 Even a seemingly clean house is still susceptible to viruses and bacteria that can affect the health of you and your loved ones. Fortunately, there are ways to combat these hidden dangers. Below are a few examples of the germiest places in your home and easy solutions for keeping them clean and sanitary.
The Kitchen
Towels, dish cloths, sponges and countertops where food is prepped – all these areas are hot spots for germs. To combat them, put sponges in the dishwasher with the drying setting on, or zap wet sponges in the microwave for 1-2 minutes to kill bacteria. Use a fresh dish cloth every day, and sanitize in the washing machine with hot water in between uses. Wash out the sink with soap and hot water after preparing meals and washing dishes, and sanitize the sink, drain and counters with a bleach solution at least twice a week.
The Laundry Room
Did you know that there is a tenth of a gram of feces in every pair of soiled underwear? Because of this, underclothing should be washed separately in 150℉+ hot water. Move them to the dryer as soon as the wash cycle is done so germs don't get a chance to multiply, and run it until everything is completely dry, which usually takes about 45 minutes. When you're done, always wash your hands with soap and water and use a bleach solution on the washing machine's tub.
The Bathroom
Your toilet bowl is not the only source of germs and bacteria in your bathroom. The flush handle on your toilet is often forgotten, and is one of the easiest ways to transfer sickness from person to person. The best way to cut down on bathroom germs is with weekly disinfecting of the floors, tub/shower floor and sides, and the toilet (including the flush handle).
Delayed Opening – Thursday 1/18/18
This is an important message regarding operations for Apple Tree Learning Centers for Thursday January 18th.
All Apple Tree Centers will operate on a 3 hour delay. We will open at 9am due to the freezing temperature and road conditions. Due to the delayed opening time we will only be serving lunch at 12pm and afternoon snack at 3pm tomorrow.
Academy classes K through 5th grade will be on a delay with a start time of 9:30am.
Child care is available for all public school students for an additional fee.
Sidewalks and parking lots have been salted; however, they are still icy and slippery from the below freezing temperatures. Please be careful and hold your child's hand when walking in these areas to prevent falling.
We appreciate all your support and please be safe.
Sincerely,
Heidi Riden
CEO
A New Year. A Not So New You…and that's the beauty of Life!
Another calendar has flipped to the final page, welcoming a new year and a trip to the stationary store to get a 2018 calendar.
For most of us the a new year can bring on some anxious thoughts as we prepare to "do it right" this time. We make resolutions (that sound awfully familiar), clean out our closets (even after we purged for end of year giving), start a diet (back to those pesky resolutions), and the list can begin to get out of control!  There is absolutely nothing wrong with any of this, however, it might be time to give yourself a break. take a minute to think about your life, and move forward into the new year with the same old awesome you!
Take some time to write down – or enter into a computer – a "bucket list" of things that you "want" to do in 2018.  Once this list is compiled, create another list of tasks that you "must" do in 2018.  Lastly, create another list of commitments that you are routinely doing that could be moved to a list titled: "Not Needed In My Life for 2018".
Once you have these things written down – your "life as it is today" will become more clear and your ability to soar in 2018 will be natural and successful.
Holiday Giving Is The Perfect Lesson In Love
The holiday season is the perfect time to teach our children the beauty of giving back to others. At a time when so many people are focused on getting something – why not take a moment to guide your children in the merit and blessing of giving!
Here are some ideas to help you get started:
Bake As A Family. Although having kids in the kitchen with mixers, cookie dough and measuring cups filled with powder may not be the most care-free option for a mother – this time together can be the best time for bonding and may even turn into a family tradition! As a family, deliver these cookies to your neighbors, your local fire and police station, and even have some packaged at the door for the frenzied postal and delivery drivers who are working hard to get your packages to you on time for the holiday season
Sponsor A Family. There are local organizations that can help you find a family that needs your help this holiday season. Include your children in buying gifts. Let them pick out what "they think"is the best gift idea – and you can supplement these choices with those that you believe are needed and will ensure the holiday is filled with joy for this family in need.
Help The Homeless. Even though this is the time of year when many organizations focus on the homeless community, you can pack gift bags for your family to hand out during your daily travels. Choose practical items such as socks, gloves, hats, snacks, water bottles, gift cards for food and some interesting items that will surprise them! This is something that can be done all year long – your kids will really enjoy doing this – and hopefully it will become a tradition with their own family.
Handwashing: A Powerful Antidote To Illness
How many times have you and your child washed your hands today?
You might not have given it much thought. It's either part of your routine, done frequently without thinking, or maybe you don't do it much at all. But as your pediatrician may have told you, hand washing may be the single most important act you and your child have for disease prevention.
Making It Habit
As early as possible, get your child into the habit of washing her hands often and thoroughly. All day long, your child is exposed to bacteria and viruses—when touching a playmate, sharing toys, or petting the cat. Once her hands pick up these germs, she can quickly infect herself by:
Rubbing her eyes
Touching her nose
Placing her fingers in her mouth.
The whole process can happen in seconds, and cause an infection that can last for days, weeks, or even longer.
When To Wash
Hand washing can stop the spread of infection. The key is to encourage your child to wash her hands throughout the day. For example, help her or remind her to wash her hands:
Before eating (including snacks)
After a trip to the bathroom
Whenever she comes in from playing outdoors
After touching an animal like a family pet
After sneezing or coughing if she covers her mouth
When someone in the household is ill
Studies on hand washing in public restrooms show that most people don't have very good hygiene habits. "Hand washing" may mean just a quick splash of water and perhaps a squirt of soap, but not nearly enough to get their hands clean.
Steps to Proper Hand Washing
So what does a thorough hand washing involve? The Centers for Disease Control and Prevention (CDC) recommends the following steps:
Wet your child's hands.
Apply clean bar soap or liquid soap to the hands, and then place the bar on a rack where it can drain before the next hand washing.
Rub the hands vigorously together. Scrub every surface completely.
Keep rubbing and scrubbing for 10 to 15 seconds to effectively remove the germs.
Rinse the hands completely, then dry them.
How Long to Wash
Keep in mind that although 10 to 15 seconds of hand washing sounds like an instant, it is much longer than you think. Time yourself the next time you wash your hands. Watch your child while she's washing her hands to make sure she's developing good hygiene behaviors. Pick a song that lasts for 15 seconds and sing it while you wash. Encourage your child to wash her hands not only at home, but also at school, at friends' homes, and everywhere else. It's an important habit for her to get into, and hopefully one that's hard to break!
Article Source(s):
Immunizations & Infectious Diseases: An Informed Parent's Guide (Copyright © 2006 American Academy of Pediatrics)
https://www.healthychildren.org/English/health-issues/conditions/prevention/Pages/Hand-Washing-A-Powerful-Antidote-to-Illness.aspx
The information contained on this Web site should not be used as a substitute for the medical care and advice of your pediatrician. There may be variations in treatment that your pediatrician may recommend based on individual facts and circumstances.
Let's Be Friends!
Making friends is an important part of your child's development at preschool, and friendships often develop as children play and learn together. With a few tips, your guidance as a parent can help your preschooler to adapt to this new social environment and learn to play well and be a good friend in the classroom and at play.
Some children seem to make friends easily. They might be able to name their friends. They might look for their friends when they arrive at preschool or playgroup, or ask you about having playdates with their friends.
Some children might not have friends they can name, but they might be keen on making friends. And others might be slower to warm up and need time to watch what happens before joining in.
Friendships help children feel like they belong, which is good for children. Knowing how your child responds to other children gives you a good basis for helping him make friends and friendships in a way that suits his personality and temperament.
Preschoolers develop friendships during play. And as your child plays, she builds skills that help her with friendships now and in the future. These are skills like sharing, taking turns, cooperating, listening to others, managing disagreement, and negotiating different views and ways of thinking about things.
It might help to remember that many of these skills are hard even for adults. Your child is still learning and she needs lots of opportunities to practice being a good friend.
Providing time for children to play with other children from preschool or playgroup can help them develop friendships. Here are some ways that you can prepare your child from the homefront:
Talk with your child about who he plays with, why he likes playing with them and what they like to play. If you know who your child likes to play with, you can talk to other parents about playdates.
Make a time for children to meet and play. You could invite other children and parents to your home, or arrange to meet at a local park.
Stay close. It can be reassuring for your child to have you nearby, particularly if the children don't know each other well. As your child gets more confident you can be further away, although it's still important to be aware of what's going on.
Keep an eye on what's going on. This will help you know whether children are just enjoying some rough-and-tumble play, or whether the play is getting out of hand. If things are getting too rough, you'll need to step in.
Set a time limit for the playdate. When children get tired, they often find it harder to cooperate. It's good to finish play time with everyone wanting to do it again.
Source: http://raisingchildren.net.au/articles/preschool_friends.html/context/557