Survival Guide To Back-To-School Shopping
It seems like summer break only just arrived, but now that August is here it's time to start planning for another year of school! The stores have stocked their shelves with back-to-school supplies and supply lists for all ages will be out soon. Now that the stores are stocked – have you thought about your back to school shopping yet?
Getting ready for the school year can often times be overwhelming, especially if you have several children. The flurry of summer activities doesn't slow down until the first day of school begins, and you may still be busy organizing child care and pool parties while holding down a job yourself.
As with any daunting task, the best way to get started is to prepare beforehand by making a list. You can start with one large list of everything your child will need for the year. Don't forget – back to school shopping includes more than just school supplies. Your children may need new clothes for the year, a haircut for first day photos and a grocery store trip for lunchtime snacks. With this in mind, it may be helpful to create smaller lists based on what types of item and what type of store you need to go to in order to get these purchased. With your lists in hand, you'll be able to get in and out of stores quickly without forgetting items or overspending.
Next, plan your course of action. You can get your children involved and make a big day of it, getting all of your shopping done in one go, or choose to visit one store every few weeks leading up to the first day of school to make it feel less stressful. As August comes to a close, stores will become busier, so plan accordingly if you prefer to avoid crowds.
Lastly, once you have your back-to-school shopping completed, make sure to sort, label and have everything ready and packed for the big day!
Tax Free Weekend Is Right Around The Corner!
The 3-day sales tax holiday starts the first Friday in August at 12:01 am and ends the following Sunday at 11:59 pm.  Click here for complete details!
Take A Walk In Nature!
When was the last time you took a walk and really paid attention to your surroundings? Whether you're walking to work, walking your dog or taking a weekend hike, there is nature all around you – even in big cities. Looking at plants and wildlife can tell you a lot about your local environment, including its history and even weather patterns. If you want to learn more about nature next time you're out on a stroll, check out these tips on where to start:
Grab a local guide. With the wealth of information available to us online, it can be overwhelming to begin your lesson with a google search. The easiest way to learn about the plants and animals in your area is to look for a book that can help tell you what to look for, or even search for guided nature walks where a professional can point them out for you.
Take photos. If you prefer to just walk outdoors and see what you can find, a great way to learn about the nature around you is to take photos of plants and animals that interest you to revisit later. No need for a fancy camera here – your phone should do the job. Just remember to keep your distance from wildlife, and never feed the animals.
Just observe. Of course, you don't have to identify plants and animals to learn about nature. Sometimes the best way to experience the outdoors and learn about the environment around you is to just take a walk an observe. The more you walk, the more you'll see the plants around you changing from season to season, or the way the sky looks when the weather changes. You may even witness amazing wildlife too, like freshly hatched ducklings. Just get out there and have fun!
Five Ways To Celebrate Your Mom From The Heart

Last month we celebrated Mother Earth, and this month it's time to celebrate mothers everywhere. If you don't have something special planned for the mom in your life, now is the time to get thinking. This year, rather than buying the standard cards and flowers, why not celebrate mom from the heart? Here are a few suggestions:
1. Plan a day together.
Whether you're an only child or have several siblings, planning a day together with your mom is one of the best ways to celebrate Mother's Day. Ask her what she would like to do, or take her out to her favorite restaurant – either way, she most likely just wants to spend the day with the people she loves most.
2. Do something nice.
Sometimes the best gift to receive is someone else taking on task or chore that you've been putting off. Do something nice for Mother's Day by getting chores done for her, completing a home repair or even just mowing the lawn.
3. Create something personal.
Gifts are always better when they are thoughtful and personal. Create something that reflects your mother's personality or your time together – a photo book of your family, a basket with new tools for her favorite hobby or a self-care kit with bath bombs and face masks to relax.
4. Send her on a trip.
After years of caring for you, maybe it's time to gift mom the vacation she deserves. Whether it's down the street to the spa, or across the world, a trip is the perfect gift to show your appreciation for her love and care.
5. Keep it simple.
Not all mothers love gifts or grand gestures. If your mom prefers to keep it simple, sometimes just telling her how much she means to you is enough.
Summer Camp Fun IN THE WILD!
Throw on your camera strap and buckle your seat belt.   Summer Camp 2019 at Apple Tree Learning Centers takes you on a wild adventure—with elephants and egrets, polar bears and penguins, cockatoos and crocodiles. As you seek out exotic animals, you'll also find snapshots of real-life encounters with Jesus in Scripture. You will go from bewildered to believing as you get In The Wild at this year's amazing summer camp.
Visit our Summer Camp page to learn more and to see a very exciting video!
Contact the locoation nearest you and find out more about our Summer "In The Wild" Camp for 2019.
We look forward to hearing from you.
The Shopper Features Apple Tree Learning Center Story
Recently,  The Shopper magazine featured the Apple Tree Learning Center Story.
Apple Tree is a Christian learning center that started in a small church on North Battlefield Boulevard 30 years ago. It uses a blend of the Abeka and Pinnacle faith-based curriculums and provides full-day
learning experiences for infants through Pre-K students, as well as a full-day Academy program for K-5th. Summertime is filled with adventurous Summer Camp activities that involve weekly field trips, in-house events, cooking projects, art projects, and water play fun.
The families at Apple Tree are especially excited about their new location at 1141 Executive Boulevard in the Greenbrier area. The 16,000-square-foot building with all new amenities for the students is home to two separate educational zones—the K-5 Academy wing and the Early Learning section for infants to Pre-K.
Kevin Thomas, Executive Director, proudly states, "We have newer technology and so much more space. We have big, beautiful classrooms and a gorgeous new playground with stunning green artificial turf surfacing. The children love the playground so much that when they're out there playing, we can hear their excitement from a distance."
With child-sized furnishings throughout, Apple Tree's new location is built to be kid-centered. "It's their space and they need it to work and function for them," Judi Gray, Center Director says. But the facility's crowning achievement is the brand new 5000-square-foot multi-use gym with half-tile and half-carpeted flooring. "This allows for the students to participate in activities like indoor soccer, basketball, and to have quality physical activity indoors when weather is cold or inclement," Judi adds.
"We've also installed brand new batting cages in the gym," Heidi says excitedly. "They're handy for youth baseball travel teams who are in need of indoor training space when weather isn't conducive to outdoor batting practice. Being able to support other youth programs in other areas such as sports allows Apple Tree to extend its ability to reach more youth and families in positive ways throughout Hampton Roads. This is the Apple Tree difference we want to make in our community." 
Despite the growth with the new facility, Heidi is quick to point out that Apple Tree is a locally-operated non-profit. "Because of our size and footprint in this area, sometimes families think we are a franchise or chain. We don't have a CEO in another state making decisions. We're here. The wonderful thing about Apple Tree is that we offer a high-quality education at prices that are actually lower than many of our competitors." Longtime parent of the program, Erin Simeone, proudly states, "Apple Tree has become our second family. We are greeted each day as if we are family to Apple Tree, not a customer. The personal touch that the teachers and directors put into their center is genuine and heartfelt. Our son loves coming here and he adores his teachers. As an educator myself, I feel confident when I drop off my child each day that he is in an environment where he is loved and academically challenged."
With her eyes always on providing high-quality education, Heidi looks past the new location and its spectacular new gym to even more exciting news. Three out of the six Apple Tree Learning Centers are now fully accredited through AdvancED, a nationally-recognized agency that provides accreditation for schools, Infants through Post Secondary.
 "We're in the centers every day
and foster good relationships
with our parents.
They know us and reach out to us."

 —Kevin Thomas
"I'm very excited and pleased about the accreditation," Heidi says beaming. "In order to be accredited, we have to meet standards that go above and beyond state regulations. Accrediting agencies are looking for quality programs that meet a higher standard for curriculum, teacher-child interaction, and classroom dynamics. It's a very rewarding accomplishment! Accreditation is not something that can be accomplished in a month or two, it can take up to 24-months to complete the process, so our goal is to hopefully have all the Apple Tree campuses accredited by the end of 2020."
It's not just the education of the children that accrediting agencies consider in making their decision. They also check to see if institutions and facilities meet the higher standards required for staff professional development. Apple Tree does.     
Read More >
Source: https://theshopper.com/
Article written by Cristi Sanchez
Safety First: What's Your Plan?
At Home. A home safety plan is incredibly important if you have children, or even visiting family members. Make sure your first aid kit is well-stocked, and that every member of your family knows where to locate it. Keep a list of emergency phone numbers on the refrigerator, and review who to call in difference scenarios. Keep a fire extinguisher accessible, and become familiar with the instructions. Determine a "meeting spot" that every family member must head to if disaster hits suddenly. A home safety plan doesn't have to be elaborate, but it could keep a bad situation from getting worse!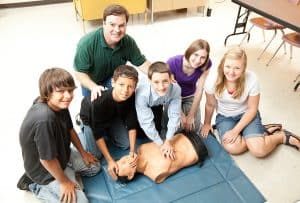 On Vacation. Whether you're going to Disneyland, or a week at the beach, making sure your family is aware of a safety plan that can help avoid unsafe situations. Before you head off for your adventure, take note of weather conditions and any activities that could pose a potential danger to your loved ones, and it's important to talk over a safety plan with your family – especially your children. For example, there may be a strong rip tide on any given day at the beach. A safety lesson of the dangers of a rip tide  — explain what it is as well as what to do if caught in a rip tide — and show them the flag that flies to alert the dangers as well as their  "safety contact" at the lifeguard station.  If you are in a crowded area like a theme park, set a meeting place to gather in the event that someone is separated from your group. It is also a good idea to make note of emergency exits and medical facilities.
Every Day. Having a safety plan also means talking to your children about how to stay safe on a daily basis. For example: what should they do if a stranger tries to talk to them? Or even the importance of not looking down at their phone as they cross the street. For you, a daily safety plan may mean having a trusted friend, family member or neighbor who can watch your children in the event of an emergency, or even on a day when you are staying late at work. It could also mean knowing a few first aid basics, like how to help a child who is choking or enrolling your teen in a CPR class at the local hospital.
Aaa-chooo! Keeping A Healthy Home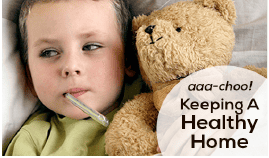 Even a seemingly clean house is still susceptible to viruses and bacteria that can affect the health of you and your loved ones. Fortunately, there are ways to combat these hidden dangers. Below are a few examples of the germiest places in your home and easy solutions for keeping them clean and sanitary.
The Kitchen
Towels, dish cloths, sponges and countertops where food is prepped – all these areas are hot spots for germs. To combat them, put sponges in the dishwasher with the drying setting on, or zap wet sponges in the microwave for 1-2 minutes to kill bacteria. Use a fresh dish cloth every day, and sanitize in the washing machine with hot water in between uses. Wash out the sink with soap and hot water after preparing meals and washing dishes, and sanitize the sink, drain and counters with a bleach solution at least twice a week.
The Laundry Room
Did you know that there is a tenth of a gram of feces in every pair of soiled underwear? Because of this, underclothing should be washed separately in 150℉+ hot water. Move them to the dryer as soon as the wash cycle is done so germs don't get a chance to multiply, and run it until everything is completely dry, which usually takes about 45 minutes. When you're done, always wash your hands with soap and water and use a bleach solution on the washing machine's tub.
The Bathroom
Your toilet bowl is not the only source of germs and bacteria in your bathroom. The flush handle on your toilet is often forgotten, and is one of the easiest ways to transfer sickness from person to person. The best way to cut down on bathroom germs is with weekly disinfecting of the floors, tub/shower floor and sides, and the toilet (including the flush handle).
Words Do Make A Difference In The Success of Your Child
As the new year begins, it makes sense to start the month off with POSITIVE words and behaviors – and there is no better place to start than as a parent. Parenting is a balancing act that requires control – often tangling with the fine line of encouragement and exasperation. Positive words that you speak over your kids can help instill confidence and control in your WHOLE family in both the short term and long term.
Words spoken can become meaningless when they are not exhibited in an action. However, words alone do have great power – both positive and negative. We can all make a choice to speak in a positive way to everyone around us – especially to our children and all young ones that we encounter throughout the day. This behavior is one that they will begin to imitate – even though they may not recognize they are doing so.  You never know how the words of encouragement that you speak today will affect your kids to carry with them for the years ahead.
Be intentional in the morning – and set aside specific words that you are going to speak to kids. Write them down if you have to, or simply use your favorite word of encouragement that brings a smile to YOUR child's face – over and over again.  The more you can follow up these words with actions of affirmation – the more power these words will have. Have fun and spread the kindness beyond your home – you'll be amazed at the goodness that will follow!
Holiday Traditions For The Whole Family
The holiday season is wonderful for spending time with family and friends, catching up and relaxing. As you grow older, this
time of year can bring back fond memories from your own childhood as the weather gets colder and the holiday sights and sounds appear. If you are now the host for the holiday activities, it means that you are now the maker of memories for others – and you are in charge of what may become a tradition in their future.
You may already have your own family traditions for the holiday, but here are a few classics to help you get in the spirit this season:
Baking together. This is one tradition is great for the whole family – adults enjoy a taste of their childhood with a treat they wouldn't normally make, kids spend more time interacting with family and away from the television, and grandparents get to bond with those they haven't seen in a while.
Picking out the tree. Whether you put your tree up as soon as Halloween passes, or wait until the week before Christmas, everyone has their own tradition for picking out the tree. Create your own by making sure your entire family is present and decide together which tree will be your holiday centerpiece this year.
Choose a cause. The holidays are also a great time to give back. Pick a cause that your family is passionate about, and volunteer or make a donation in your child's name to create a new tradition and teach them values that will last a lifetime.
Open a gift early. Want to extend the excitement of opening gifts? The tradition of opening a gift early will be one your kids will definitely remember and will help keep the holiday cheer around longer.