Aaa-chooo! Keeping A Healthy Home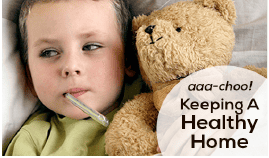 Even a seemingly clean house is still susceptible to viruses and bacteria that can affect the health of you and your loved ones. Fortunately, there are ways to combat these hidden dangers. Below are a few examples of the germiest places in your home and easy solutions for keeping them clean and sanitary.
The Kitchen
Towels, dish cloths, sponges and countertops where food is prepped – all these areas are hot spots for germs. To combat them, put sponges in the dishwasher with the drying setting on, or zap wet sponges in the microwave for 1-2 minutes to kill bacteria. Use a fresh dish cloth every day, and sanitize in the washing machine with hot water in between uses. Wash out the sink with soap and hot water after preparing meals and washing dishes, and sanitize the sink, drain and counters with a bleach solution at least twice a week.
The Laundry Room
Did you know that there is a tenth of a gram of feces in every pair of soiled underwear? Because of this, underclothing should be washed separately in 150℉+ hot water. Move them to the dryer as soon as the wash cycle is done so germs don't get a chance to multiply, and run it until everything is completely dry, which usually takes about 45 minutes. When you're done, always wash your hands with soap and water and use a bleach solution on the washing machine's tub.
The Bathroom
Your toilet bowl is not the only source of germs and bacteria in your bathroom. The flush handle on your toilet is often forgotten, and is one of the easiest ways to transfer sickness from person to person. The best way to cut down on bathroom germs is with weekly disinfecting of the floors, tub/shower floor and sides, and the toilet (including the flush handle).
Words Do Make A Difference In The Success of Your Child
As the new year begins, it makes sense to start the month off with POSITIVE words and behaviors – and there is no better place to start than as a parent. Parenting is a balancing act that requires control – often tangling with the fine line of encouragement and exasperation. Positive words that you speak over your kids can help instill confidence and control in your WHOLE family in both the short term and long term.
Words spoken can become meaningless when they are not exhibited in an action. However, words alone do have great power – both positive and negative. We can all make a choice to speak in a positive way to everyone around us – especially to our children and all young ones that we encounter throughout the day. This behavior is one that they will begin to imitate – even though they may not recognize they are doing so.  You never know how the words of encouragement that you speak today will affect your kids to carry with them for the years ahead.
Be intentional in the morning – and set aside specific words that you are going to speak to kids. Write them down if you have to, or simply use your favorite word of encouragement that brings a smile to YOUR child's face – over and over again.  The more you can follow up these words with actions of affirmation – the more power these words will have. Have fun and spread the kindness beyond your home – you'll be amazed at the goodness that will follow!
Holiday Traditions For The Whole Family
The holiday season is wonderful for spending time with family and friends, catching up and relaxing. As you grow older, this
time of year can bring back fond memories from your own childhood as the weather gets colder and the holiday sights and sounds appear. If you are now the host for the holiday activities, it means that you are now the maker of memories for others – and you are in charge of what may become a tradition in their future.
You may already have your own family traditions for the holiday, but here are a few classics to help you get in the spirit this season:
Baking together. This is one tradition is great for the whole family – adults enjoy a taste of their childhood with a treat they wouldn't normally make, kids spend more time interacting with family and away from the television, and grandparents get to bond with those they haven't seen in a while.
Picking out the tree. Whether you put your tree up as soon as Halloween passes, or wait until the week before Christmas, everyone has their own tradition for picking out the tree. Create your own by making sure your entire family is present and decide together which tree will be your holiday centerpiece this year.
Choose a cause. The holidays are also a great time to give back. Pick a cause that your family is passionate about, and volunteer or make a donation in your child's name to create a new tradition and teach them values that will last a lifetime.
Open a gift early. Want to extend the excitement of opening gifts? The tradition of opening a gift early will be one your kids will definitely remember and will help keep the holiday cheer around longer.
Give Thanks By Giving Back!
During the weeks leading up to AND surrounding Thanksgiving, we are often focused on what we are thankful for, and to whom we wish to give thanks. But there are also other things we can give! November is a great time to look back on the year and determine who and what helped us throughout the months, but it is also the time to help others. Here are a few ways that you can give to others during the holidays:
Donations:
While you can donate to any organization year-round, the holidays bring more specific efforts give to children and families. Contact your local shelters, food banks and soup kitchens to find out what items they need at the moment. If you find your holiday schedule is too busy for local donations, many popular seasonal donation boxes for toys, canned goods or even spare change can be found at grocery stores and libraries for convenient drop-off.
Volunteer:
With all of those donations coming in during the holidays, organizations will need more volunteers to help with sorting efforts. If the volunteer roster is full at your local foodbank or soup kitchen, there are still plenty of ways to get involved- look for park cleanups, charity runs or animal shelters that always need extra hands.
Small Gestures:
Because we may tend to look for larger ways to give, we may forget about small gestures to help our friends and family during the holidays. Try bringing in treats to the office or your child's teachers, or calling a friend who you haven't spoken to in a while to check in. Sometimes the smallest acts can uplift and motivate those who really need it.
Grab A Pumpkin and Enjoy This Pumpkin Fun For Everyone!
Fall has arrived and this is the season for pumpkins! This classic gourd is a favorite for many but has gained in popularity over the past few years with the introduction of pumpkins flavoring in an array of things.  But what can you do with the actual pumpkin itself (aside from making a pie or setting them out on your front porch)? Here are two ideas for you and your family to fully enjoy this amazing fall treat!
Make A Pumpkin Planter
This is a great use for a carved or uncarved pumpkin, and anything that adds a little natural beauty to the yard is a win to us. Head down to your local nursery, pick up some annuals, and use your pumpkin as the planter!
If your pumpkin is uncarved, cut off the top and remove the seeds, guts and flesh from inside. Set them aside and save for later (if you have a carved pumpkin, skip this step). Simply pack some potting soil into your pumpkin until it is about one-third full. If your pumpkin is carved, you may need to do some extra packing to keep the soil from falling out.
Place your plant into the pumpkin, and fill it out with more potting soil.
You can dig a small hole and plant the whole pumpkin right away, or leave it on the porch for a festive decoration for a few days. Whether you plant it or use it for decor, the pumpkin will naturally compost and provide fertilizer for your plan
Feed The Wildlife
Depending on where you live, a pumpkin you'd otherwise throw away could be a tasty snack for a furry or feathery neighbor. Old pumpkins are the perfect food for deer, and any pumpkin seeds you don't want to toast up for yourself will make a yummy treat for birds.
If you are looking for a local Pumpkin Patch, Here are a few of our favorites:
Great Bridge Pumpkin Patch, 900 N. Battlefield Blvd, Chesapeake, VA 23322  — Phone: 757-971-2312
Hickory Ridge Farm, 2928 S. Battlefield Blvd, Chesapeake, VA 23322  — Phone: 757-560-6763
Chubby Pumpkin Patch, Edinburgh – Across from Cinema Cafe, Chesapeake, VA 23322
Hunt Club Farm, 2388 London Bridge Road, Virginia Beach, VA 23456 — Phone: 757-427-9520
Greenbrier Farms Nursery, 225 Sign Pine Road, Chesapeake, VA 23322  — Phone: 757-421-2141
Helping Your Child Adjust To Preschool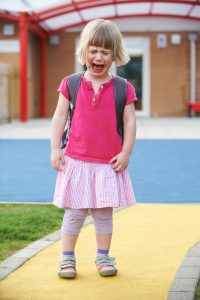 A new school year can be hard on your little one, and for that matter – the parent! If you are new to this routine, and your preschooler is struggling with this adjustment, don't worry – we've all been there. There are few things in life that are more difficult than leaving your child crying in the door of a classroom, even though in your heart and mind you know that this is temporary and necessary for all ages!  Take a look at these tips to help you and your child transition through this to a fun and healthy school year:
It Begins With YOU!
Believe it or not, if you haven't prepared YOURSELF for this major change in your daily life, your child can and WILL pick up on this. Even if you are nervous (as you most of us are) make sure that you exude a sense of calm and confidence – and watch what you say to friends and family – especially when you're little one is near.
Consistency Is Key
Children need to know what they are doing, where they are going, and what you are expecting of them.  Be sure to set up a routine – even for the youngest of the bunch.  This will not only ease the chaos in the household but will also boost awareness of the routine that is exhibited in the classroom.  Here's a simple, yet effect morning routine that can easily be adapted to all age group:  eat breakfast together, prepare a lunch or discuss the school lunch menu for the day, set a spot for school gear and have each child gather their things, double check for any missing items, and happily leave the house for a day of learning and friendship!
Leave With Confidence
Once again, when you leave your child in the classroom, they can feel your anxiety. Be sure to hug and kiss your child goodbye, assure them that you will return shortly, and walk away without any lengthy goodbye. Don't sneak out without saying goodbye, this only makes things worse.  You don't want your child to feel abandoned or tricked. You also want them to know what to expect, including a loving goodbye.
One thing to remember is that kids adjust to new environments on different timelines. If you notice that your child is having  a harder time than the others – don't worry, this process can take a few weeks. Let them adjust at their own pace, your gentleness and patience will help this life lesson be a wonderful experience.
Save MONEY – Tax Free Weekend Is Aug 3rd-5th
Don't Miss Out On The Back To School Savings and MORE throughout all stores on August 3rd through the 5th!
Be sure to Download our 2018 – 2019 School Supply List before you head out to the shop.
Enjoy YOUR SAVINGS!
Safety In The Sun – Tips For Protecting Your Family
This summer has been hotter than most – with the heat advisory lingering for days on end – it's important to protect your family from the sun rays that beat down on us throughout the day. Here are some tips for you to follow before you and your kids head out the door to protect your family from the long term effects of over exposure to the sun:
Apply early and repeat. For kids 6 months and older (as well as adults), sunscreen with a Sun Protection Factor (SPF) of 15 or greater reduces the intensity of UVRs that cause sunburns. Apply liberally 15 to 30 minutes before sun exposure so it can absorb into the skin and decrease the likelihood that it will be washed off. Reapply every two hours and after kids swim, sweat or dry off with a towel. For most users, proper application and reapplication are more important factors than using a product with a higher SPF.
Cover. Dress kids in protective clothing and hats. Clothing can be an excellent barrier of UV rays. Many light-weight, sun-protective styles cover the neck, elbows and knees.
Keep infants out of the sun. Keep babies younger than 6 months out of direct sunlight, dressed in cool, comfortable clothing and wearing hats with brims. The American Academy of Pediatrics (AAP) says sunscreen may be used on infants younger than 6 months on small areas of skin if adequate clothing and shade are not available.
Plan early morning play. For kids beyond that baby stage, the health professionals advise parents to plan outdoor activities to avoid peak sun hours (10 a.m. to 4 p.m.) as much as possible. If you have active k
ids that love the outdoors, simply be aware of and encourage "sun breaks" when needed.
Beware of shade. Many people think sitting in the shade is a simple sun compromise. Shade does provide relief from the heat, but it offers parents a false sense of security about UVR protection. You can still get a sunburn in the shade, because light is scattered and reflected. A fair-skinned person sitting under a tree can burn in less than an hour.
Check the weather. Look for the UV index on a site like Weather.com when planning outdoor activities. It predicts the intensity of UV light based on the sun's position, cloud movements, altitude, ozone data and other factors. Higher UV index numbers predict more intense UV light.
Information Reprint from Source: Care.com — https://www.care.com/c/stories/3357/summer-safety-tips-a-guide-to-protecting-kids-from-heat/
Five Ways to Incorporate Exercise into Your Family's Life – Without Them Knowing!
"Family game night" sounds more appealing than "family exercise night," and we think your family will agree! On your next family game night, choose an active game that gets each player up and moving. Whether it's the old classic "Twister", or a Wii sports game, or just an exciting match of charades, your family will get their daily aerobic activity all while having fun!
Find new activities that keep you on the move: Your kids will not only enjoy watching you in motion but will most likely not even realize they are getting a work out at the same time. An afternoon game of mini golf, an evening chasing fireflies, or an hour at the indoor trampoline park will add the "fun" factor to exercise and get your family excited to do this more often.
Visit new places: A visit to a new art gallery, science museum or park is not only great for exercising your brain, but also your body! Your children may not normally be excited about going on a walk, but they will hardly notice the number of steps they are taking as they walk from room to room checking out fun exhibits and demonstrations.
Get Out Into the Fresh Air: : Now that it's summer, your kids are probably spending most of their spare time outdoors anyways. Outdoor sports are one of the best ways to get exercise, and your own backyard can serve as a makeshift soccer or baseball field.
Strategic chore charts: If your children are already used to helping around the house, try planning their chores around activities that are more physically involved, like vacuuming, washing the car or helping in the garden. Household chores may not be a lap around the track, but they are guaranteed to get you moving!
How Does Smiling Affect Your Health?
If you type "smiling makes you…" into your search engine the results immediately give insight into why a simple smile is so contagious. The search results for the benefits of smiling includes "smiling makes you live longer", "smiling makes you look younger," and even, "smiling makes you more attractive!" But there is one health benefit at the root of a smile, making people live longer and look younger and that is happiness.
Happiness is a common goal that almost every human strives for every day. We seek it through our careers, finances, family life and hobbies, but there are many conflicting arguments about what true happiness really is and how we can best achieve it.
Not only does smiling release serotonin, the neurotransmitter connected to happiness, to create positive feedback and emotions, but
studies
show that positive emotions can lower a stress-induced heart rate increase (whether it's authentic or not!) This means that by reducing your stress-symptoms with a smile, you're also reducing the negative health effects that go along with stress, like high blood pressure, headaches, fatigue and a decreased immune system response.
So, the next time you're in a stressful situation, put on a big smile! It doesn't matter if you need to look at a funny video or photo, or force a smile that engages the muscles around your eyes and mouth – both will be effective in inducing feelings of happiness and help your health in the long run.
You can also use this knowledge to help others who may be feeling stressed or unhappy. Even seeing someone else smile can uplift our mood, but smiles are contagious, and someone else is likely to mirror your happiness with a smile in return!