Skip The Resolutions. Aim For Balance.
Have you made your resolutions for the new year? Typically, a resolution list includes goals that can seem out of reach. For example, you may aim to put a certain amount of money into your savings account, or lose a specific amount of weight. However, most people tend to lose sight of these goals just a few short months into the year. Instead of creating many different goals, a better option may be to make a broader, all-encompassing goal: balance.
Physical Balance
When it comes to diet and exercise, you've probably heard the word "balance" more than anywhere else – and with good reason! Rather than beginning the year with unattainable goals of quitting sugar, or exercising five days a week, aim for a more balanced lifestyle. If you eat that extra cookie for lunch, don't worry! You can pair it with a healthy and nutritious meal for dinner. If you skip the gym to catch a few more hours of sleep, it's no big deal. Your body needs rest too, and a ten-minute walk after lunch will feel just as good AND set you up for success!
Emotional Balance
Emotions are tough to tackle, but creating a balance in your daily life can help even out the highs and lows that come with simply being a human. Instead of trying to achieve the goal of always "being positive," it's healthier and more attainable to recognize ALL of your emotions and even write them down. For every negative emotion you feel, think of a positive one. It's can also be helpful to discuss your emotions with other people, rather than holding them in and trying to untangle them alone.
Spiritual Balance You don't have to meditate daily or attend every weekly service to feel spiritually fulfilled. Sometimes feeding your spirit is as simple as making sure you make time for yourself and doing something that you love and appreciate. This can mean going for taking a walk in your favorite outdoor spot, cooking your favorite dish or taking a long, relaxing bath without any interruptions.
Keep Calm And Carry On
It may be the most wonderful time of the year, but for many, it can also be the most stressful. Now that Thanksgiving has passed, the gears have switched and it's time for holiday shopping, schedule-organizing and making travel plans, on top of end-of-the-year tasks at work and planning for 2020. With all there is to do, it's no surprise if you're having feelings of dread instead of feelings of joy. Try these calming tips to get through the busy season:
Set aside time for yourself. If you have children, work in an office and host family for the holidays, it's likely that you don't get much time to yourself, away from everyday noise. Setting aside 15 to 30 minutes in the morning as soon as you wake up, during your lunch or before bed may not seem like a lot, but it can give you the space you need to focus on yourself and read a book, meditate or work on a hobby.
Get some fresh air. Have you noticed the seasons changing and the leaves falling, or have you been too focused on tasks indoors to "stop and smell the roses." The benefits of time spent in nature have been widely studied and documented, but we don't always have the time to go on a hike. Next time you are leaving your house for work in the morning, or walking to your car after holiday shopping, stop and take a look around, breathing in the fresh air.
Stay organized. If you can't mitigate stress with quiet time because you simply have so much to do, the best thing may be to tackle it head on. Sometimes the most soothing way to deal with a busy schedule is to make a list and watch as you cross items off throughout the day.
The Gift Is In The Giving: A Lesson For The Young
The holidays are an exciting time for our young ones who have been thinking hard all month about what will be at the top of their wish list. Nothing beats seeing the look on your child's face when they open the gift they've been hoping for all month. However, amongst the lessons of gratitude for receiving presents, it's also a great time to teach your young owns about the gift of giving, and how we can impact the lives of others.
Giving for Appreciation
While it is always nice to receive a thoughtful gift from a loved one, doesn't it feel just as nice and rewarding to give one? Teach your child about how giving even small, homemade gifts can let someone know that you are thinking about them and value their love or friendship. Help them come up with a gift for their family, classmates and teacher, and you may even make a fun craft night out of it!
Giving Back
Though there are plenty of opportunities to volunteer or donate year round, the holidays tend to have more available through work or school. Giving doesn't always have to mean wrapping up a new toy for your child's sibling or grandparent – it can also mean giving back to the community and those who are less fortunate than us around this time of year. Pick a cause together and dedicate some time to learning together about how you can help, and why it's important. This could be collecting canned goods for the local food bank, or fulfilling another child's holiday wishlist.
Give for Thanks
Another small act of giving is sending thank-you cards to family members after the holidays have ended. Hearing that someone appreciates your efforts is sometimes the best gift to receive!
Tips To Organize Your Schedule And Keep Yourself Sane
If you have a big family, you know that keeping track of your own schedule, PLUS those of your children can be a confusing and stressful time. Each kid has different social events, after-school activities and weekend plans, while you have your own agenda to keep up with full of meetings and errands. With so much going on, how can you possible go a day without being late or missing an appointment? Check out these tips to organize your schedule and keep you sane:
Go Digital
If you use Google Calendar for your work to keep track of meetings throughout the office, why not use the same technique for your home? If your kids are always on their phones anyways, they will have no excuse for not inputting next week's soccer game into the shared family calendar. Plus, you can even keep track up upcoming tests and assignments to know who should be studying. You can even set up email alerts to be notified when a new event is made, so you never miss anything.
Get Interactive
For kids who aren't old enough to have phones, or for those who are less digitally inclined, a class refrigerator calendar, or a white board that your family can write events and reminders on will give you a reminder each morning of what is happening that day. Use fun stickers to indicate sports games or parties to encourage your children to use the resource available.
Set alarms
What good is a calendar if you check it once and then forget? One great tip is to set alarms and reminders on your phone ahead of time – one 30 minutes to an hour ahead of the event, and one a few minutes before. If you have the technology available – use it!
Building A Foundation For Learning
While your child won't be reading Tolstoy or Shakespeare at an early age, children are always learning from the experiences around them, and pick up language skills from the day they are born. They begin by picking up cues from those around them, and eventually move on to understand the meanings and structure behind words. You may not be able to teach them complicated materials before grade school, but there are ways in which you can set them up for success by building a solid foundation for reading, writing and arithmetic.
Read books together. When reading books to your child, make them an active participant. Point out objects and words in the book and have them repeat the word back to you. If it is a book you have read together multiple times, ask them about what just happened, or what happens next. If possible, choose books that focus on rhyming and sound.
Make a point to always be teaching. Even if you have a busy schedule and cannot read your child a bedtime story each night, you can teach them something daily using the environment around you. Children greatly benefit from associating sounds with objects, so next time you are on a walk, point out different objects and saw what they are, annunciating each word carefully (especially if you see signs that display text). If your child has questions, answer them and encourage conversation to use practice using the words they have learned.
Choose toys carefully. Toys can keep your child distracted while you make dinner or fold a load of laundry, but they can also be helpful teaching tools. Puzzles that have words in addition to photos, or electronics that say each word as buttons are pressed are great options to choose over another action figure or doll.
Fun Ideas To Make Your Child Smile!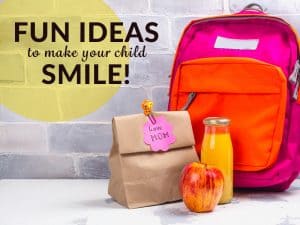 The first few weeks of school can be tough for both you and your child. After a summer of fun and spending time together, it's back to hard work and days apart from each other. Lunchtime offers your child a break from the busyness of the school day, and also offers a chance for you to make them smile, and even cheer them up in that adjustment period. While you may not be able to visit them for lunch every day, there are still a few ways to sneak a little love into this mealtime:
Write a note. Sometimes the easiest way to make someone smile is to write them a note and show you are thinking of them. It doesn't have to be elaborate – a simple "I love you" or "Have a great day" will most likely do the trick if they are missing mom or dad during the school day.
Surprise them with a treat. What better way to make your child look forward to lunch and smile everyday than surprising them with a sweet treat, or even just a new kind of snack or sandwich? Go shopping together, or keep a cabinet up high filled with secret options to choose from so that every day is exciting for your little one when they open their lunch bag.
Pack it all up nicely. When you don't have any special snacks stocked in your home to sneak in to your child's lunch bag, sometimes the bag itself can be the treat. Get your child excited to see what you've packed for the day by letting them pick out a new exciting lunch bag for the year with their favorite cartoon or movie characters. The more compartments to explore and hide snacks in, the better.
Survival Guide To Back-To-School Shopping
It seems like summer break only just arrived, but now that August is here it's time to start planning for another year of school! The stores have stocked their shelves with back-to-school supplies and supply lists for all ages will be out soon. Now that the stores are stocked – have you thought about your back to school shopping yet?
Getting ready for the school year can often times be overwhelming, especially if you have several children. The flurry of summer activities doesn't slow down until the first day of school begins, and you may still be busy organizing child care and pool parties while holding down a job yourself.
As with any daunting task, the best way to get started is to prepare beforehand by making a list. You can start with one large list of everything your child will need for the year. Don't forget – back to school shopping includes more than just school supplies. Your children may need new clothes for the year, a haircut for first day photos and a grocery store trip for lunchtime snacks. With this in mind, it may be helpful to create smaller lists based on what types of item and what type of store you need to go to in order to get these purchased. With your lists in hand, you'll be able to get in and out of stores quickly without forgetting items or overspending.
Next, plan your course of action. You can get your children involved and make a big day of it, getting all of your shopping done in one go, or choose to visit one store every few weeks leading up to the first day of school to make it feel less stressful. As August comes to a close, stores will become busier, so plan accordingly if you prefer to avoid crowds.
Lastly, once you have your back-to-school shopping completed, make sure to sort, label and have everything ready and packed for the big day!
Tax Free Weekend Is Right Around The Corner!
The 3-day sales tax holiday starts the first Friday in August at 12:01 am and ends the following Sunday at 11:59 pm.  Click here for complete details!
Take A Walk In Nature!
When was the last time you took a walk and really paid attention to your surroundings? Whether you're walking to work, walking your dog or taking a weekend hike, there is nature all around you – even in big cities. Looking at plants and wildlife can tell you a lot about your local environment, including its history and even weather patterns. If you want to learn more about nature next time you're out on a stroll, check out these tips on where to start:
Grab a local guide. With the wealth of information available to us online, it can be overwhelming to begin your lesson with a google search. The easiest way to learn about the plants and animals in your area is to look for a book that can help tell you what to look for, or even search for guided nature walks where a professional can point them out for you.
Take photos. If you prefer to just walk outdoors and see what you can find, a great way to learn about the nature around you is to take photos of plants and animals that interest you to revisit later. No need for a fancy camera here – your phone should do the job. Just remember to keep your distance from wildlife, and never feed the animals.
Just observe. Of course, you don't have to identify plants and animals to learn about nature. Sometimes the best way to experience the outdoors and learn about the environment around you is to just take a walk an observe. The more you walk, the more you'll see the plants around you changing from season to season, or the way the sky looks when the weather changes. You may even witness amazing wildlife too, like freshly hatched ducklings. Just get out there and have fun!
Five Ways To Celebrate Your Mom From The Heart

Last month we celebrated Mother Earth, and this month it's time to celebrate mothers everywhere. If you don't have something special planned for the mom in your life, now is the time to get thinking. This year, rather than buying the standard cards and flowers, why not celebrate mom from the heart? Here are a few suggestions:
1. Plan a day together.
Whether you're an only child or have several siblings, planning a day together with your mom is one of the best ways to celebrate Mother's Day. Ask her what she would like to do, or take her out to her favorite restaurant – either way, she most likely just wants to spend the day with the people she loves most.
2. Do something nice.
Sometimes the best gift to receive is someone else taking on task or chore that you've been putting off. Do something nice for Mother's Day by getting chores done for her, completing a home repair or even just mowing the lawn.
3. Create something personal.
Gifts are always better when they are thoughtful and personal. Create something that reflects your mother's personality or your time together – a photo book of your family, a basket with new tools for her favorite hobby or a self-care kit with bath bombs and face masks to relax.
4. Send her on a trip.
After years of caring for you, maybe it's time to gift mom the vacation she deserves. Whether it's down the street to the spa, or across the world, a trip is the perfect gift to show your appreciation for her love and care.
5. Keep it simple.
Not all mothers love gifts or grand gestures. If your mom prefers to keep it simple, sometimes just telling her how much she means to you is enough.